Brazilian laser hair removal has become a common procedure for reducing hair growth in private areas. However, it's still a relatively new treatment option. As such, there are questions about what to expect during Brazilian laser hair removal.
Since the procedure involves a stranger coming in contact with your private area, it's understandable that you may be concerned. At the same time, you may be wondering how much pain you have to deal with. The private area is delicate. Therefore, it's best to do all you can to protect it.
This article discusses what to expect during Brazilian laser hair removal. We will take a look at the procedure and what you can do to make it go smoothly. Knowing this will help prepare you for your sessions and ensure you make the most of them.
What Is Brazilian Hair Laser Removal?
Shaving and waxing are fine hair removal methods. However, the truth is they can't be as flawless and permanent as a hair laser removal. When you shave or wax your private hair, the hair will regrow faster than you think. This causes you to shave or wax again, both of which can be stressful things to do.
On the other hand, Brazilian hair laser removal involves using advanced laser technology to reduce hair growth. The technology is designed to remove hair in your private area through light wavelengths. The hair absorbs the light wavelengths, which destroys the hair follicles and ensures that hair doesn't regrow in that area for a long period.
The good thing about this procedure is that there's high precision with the technology. As such, a highly trained medical aesthetician can work on the target hair follicles without tampering with surrounding hair. Following the procedure, you'll get smooth skin devoid of hair follicles that cause hair to regrow. This will be the case for a long period.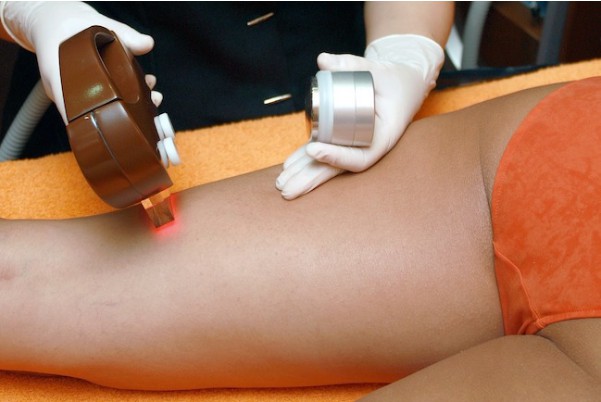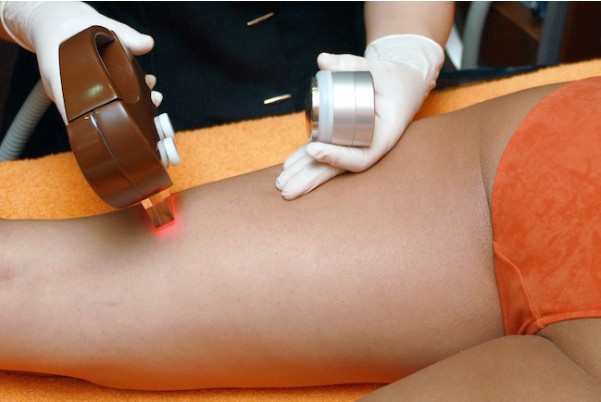 Why Brazilian laser hair removal is unique
Brazilian laser hair removal is unique because of its permanence. Other hair removal methods require that you maintain the hair regularly and also shave or wax at intervals. But with this laser hair removal, you can do away with those worries.
An impressive thing about the procedure is that it doesn't cause you pain. Clinics are evolving with better technologies to deliver excellent and calming sessions for clients. This is part of what to expect during Brazilian laser hair removal.
The laser tech uses a cryogenic coolant to help keep your private area cool during the process. That way, you can bother less about the Brazilian laser hair removal pain while the expert works on you.
This accounts for why there is an increase in the number of people going for hair laser removal. According to the NCBI, laser hair removal generally has a 73% client-satisfaction rate. So, it's understandable that Brazilian laser hair removal is an effective procedure.
Yet, it's crucial to know what to expect during Brazilian hair laser removal. If you decide to go for the procedure today, what should you prepare your mind for? Here's all you need to know.
Related Article: Is Laser Hair Removal Permanent and How Many Sessions Needed?
What To Expect During Brazilian Laser Hair Removal
Part of what to expect during a Brazilian laser treatment session is a detailed consultation. Typically, this happens before the actual laser treatment appointments.
Consultation
During this stage, you get to meet with an expert medical aesthetician and discuss your Brazilian laser hair removal needs. The experts will advise you based on your needs and give you insights into how your session will go.
Also, this is the stage where you learn about the potential end-results. Aside from meeting the expert, you will also learn about the facilities and devices the medical spa uses for the treatment.
Furthermore, this is the stage where you discuss pricing. A representative of the medical spa will let you in on the pricing model and the different packages offered. It is up to you to choose the one you desire. If you agree to the pricing, you can move to the next stage of the procedure. But if you don't, you may have to look for a different medical spa for your Brazilian laser hair removal treatments.
You'll get paperwork detailing the agreement terms and all relevant details you should know about the process. It's essential you read the paperwork before signing to ensure you're not signing over any rights you shouldn't. Once you finalize that, you're ready to begin.
Before your laser treatment
Ensure you shave before going for your Brazilian laser hair removal procedure. When the area is shaven, your medical aesthetician can work more efficiently and also get to all the target hair follicles.
Also, ensure to stay away from tanning days before your procedure. Laser treatments are most effective when your skin is in its natural tone. But with tanning and excessive exposure to the sun, you can risk making your skin more vulnerable, which isn't nice for the procedure. So, stay away from tanning salons for at least two weeks before your procedure.
You'll have to take off your clothes before getting started. After that, you'll get a paper sheet which you'll cover your body with. Right before you start the procedure, ensure you shower. This reduces the awkwardness of having a laser technician work in your private area.
Shower only with water. This way, you can avoid cases of skin irritation arising from using some skincare products. When you shower, it's easier for a medical aesthetician to access the area to be worked on.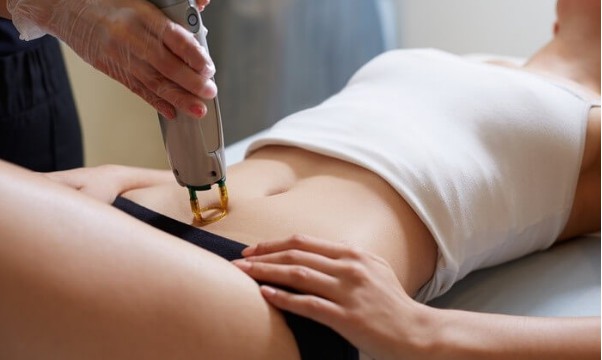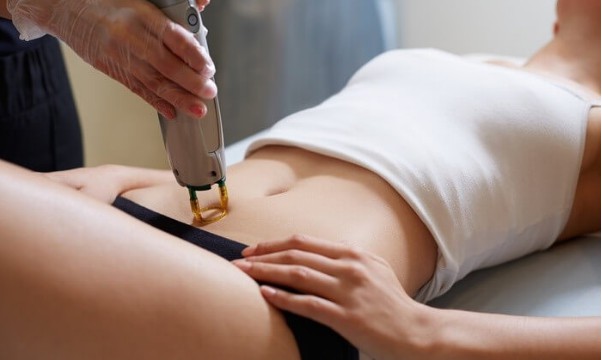 During your laser treatment
The medical aesthetician will move a handheld device over the treatment area, delivering laser pulses that will damage the hair follicles. Most people who have had this procedure say they feel a pinching effect.
Some others say they feel warm pulses. The reality is that you may get a tingling feeling or slight pain. However, within a short period, your body will adjust to the feeling.
Once your body adjusts, your Brazilian laser session will become manageable. Also, your medical aesthetician may recommend the application of a numbing cream at this stage.
While you will get some tingling effects and sensations, this will reduce if you have undergone a laser treatment in the past. This is because you will already be familiar with the procedure. Although the private part is more sensitive than other areas, the discomfort level you'll feel is the same as for other parts.
So, essentially, the more treatments you get, the less pain you'll feel, as your hair will become lighter and easier to remove. This accounts for why many people assert that Brazilian laser hair removal is less painful than waxing. With waxing, the discomfort doesn't reduce — it's the same at all times.
Expectations after the treatment
A major part of what to expect during Brazilian laser hair removal sessions is a bit of discomfort during your first treatment session.
This will be the first time you're having lasers work in your private area. The sensation and the tingling effects will be a new experience. Here are some side effects you may witness after the procedure:
Soreness: You'll feel soreness in the treatment area for a while.
Swelling: You should also expect the treatment area to swell up hours after the treatment. This is especially the case when you have your first treatment. The swelling will likely come with a dash of redness. So, you should anticipate any or all of this.
To reduce discomfort, compress the treated area with a coolant after the treatment. Also, continue to stay away from the sun.
How many Brazilian laser hair removal sessions do you need?
If you're curious about what to expect during your Brazilian laser hair removal, consider the number of sessions you need. Laser hair removal is not a procedure you do once and expect a permanent result forever.
To get the best results, you should continue getting your treatment for six months. There'll be some consistency in the hair follicle removal over this period, which will reduce hair regrowth permanently. While some clients may need six months, some others may need to up to eighteen months of recurring laser hair removal sessions. It all depends on your unique needs.
You also get to see results quite quickly. Within the first ten days, you'll begin to experience hair shedding off without regrowing. Even though you may spend months before getting maximum laser hair removal results, it's a more suitable option than waxing and shaving. Once you complete your laser hair removal treatment, you'll get to enjoy hair-free skin for a long time.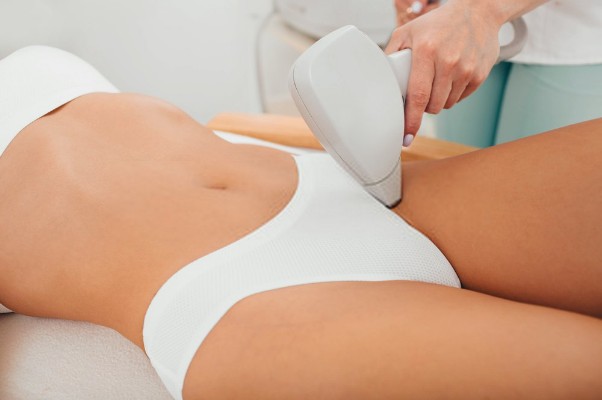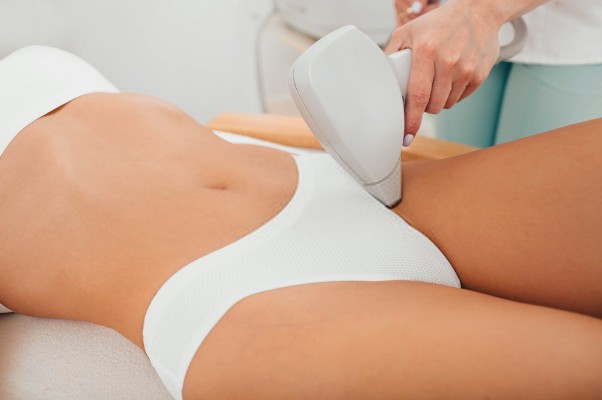 Factors to Consider Before Choosing a Medical Spa for Brazilian Laser Hair Removal
What to expect during Brazilian laser hair removal is tied to the quality of the medical spa you're using. While some clinics will deliver excellent services that will leave you healthy and in better condition, you may not get the same with some others.
This makes it important to consider the factors that should influence your choice of medical spa.
Knowledgeable Staff
It's essential you consider the expertise of the staff. The quality of a clinic's staff determines the quality of services and care you'll receive. Laser hair removal is often an expensive procedure. So, you want to be sure you're getting service from the best minds.
Safety is an important part of getting Brazilian laser hair removal, considering you will be getting work done in your private part area. This is something people are careful and private about. As such, the right medical spa must contemplate these needs and have staff members who understand these needs.
A clinic with knowledgeable staff will also know about various skin types. Your skin type determines the strength of the laser. There's no one-size-fits-all solution for laser hair removal, as the laser must be tuned to your skin needs. Therefore, you want to ensure you're not placing your skin at risk with the medical spa you're using.
Services and Equipment
You want to know whether the Brazilian laser hair removal procedure is safe. As such, the first thing to consider here is whether the clinic has FDA-approved equipment. The absence of this is a red flag you should take seriously. The clinic must use approved equipment and devices, as these will determine the results of your Brazilian laser hair removal.
Also, consider the cleanliness and maintenance level in the clinic. A laser hair removal clinic must have high regard for cleanliness and safety to prevent infections and disease transfer. The equipment used must be thoroughly sanitized, and new ones must always be used where necessary.
Reputation and reviews
Are you doubtful about what to expect during Brazilian laser hair removal? Then you should choose a clinic with a solid reputation. Laser hair removal is a delicate treatment. As such, you should always go for medical spas that have established themselves in the market.
Read the reviews on the medical spa before making your choice. Determining a clinic's reputation is not difficult. Consider whether they follow through with their promises. Also, factor in whether the medical spa follows up on clients. Following up is a non-negotiable feature of a decent clinic because that's how a medical spa ensures its service has been beneficial to the client.
More so, post-treatment, you may witness some side effects. If the clinic is present through a follow-up, you can quickly and adequately address side effects.
Reading reviews is how you can get insights into all of this. People will always talk about the quality of service they received, especially if it's bad.
Pricing
The procedure for Brazilian laser hair removal involves price considerations. A decent clinic should have competitive pricing. Do not be swayed by cheap prices when it comes to your Brazilian laser hair removal.
Consider the average pricing in your location to determine what you should expect. Highly cheap prices should be a red flag. When you get prices of this nature, what to expect during your Brazilian laser hair removal may become questionable.
Therefore, go for competitive but affordable prices. Also, the right clinic for you is one that offers discounts on treatments. This way, you get to receive the service at a relatively pocket-friendly price.
Related Article: Laser vs. Waxing vs. Shaving: Which Offers Guaranteed Hair Removal Results?
Final Thoughts
When you wonder what Brazilian laser hair removal feels like, think about a slight pain and ultimately smooth results. The procedure has lots of benefits which have made it more common among residents in Toronto. Most especially, when you complete the treatment, you get to enjoy your skin free from hair for a long period.
This article discusses what to expect during your Brazilian laser hair removal. Once you understand the possibility of downsides to the procedure, such as swelling and skin redness, you can prepare physically and mentally for your treatment. This way, you won't be caught off-guard.
Here at Canada MedLaser, we have a team of medical aestheticians who will take the time to explain all you need to know about Brazilian laser hair removal. Get in touch with us to book a consultation session today!