The only clinic in Canada to offer a "Results Guaranteed Policy"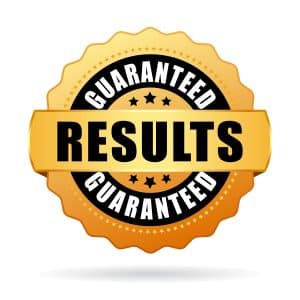 To ensure customer protection, our company offers a Result Guarantee for our services. If results are not obtained from our service, you have the unconditional right to request additional treatments free of charge, within 30–60 days after the end of your last session, *unless suggested otherwise, based on the treatment*.
No additional treatments are available after 30-60 days, *unless suggested otherwise, based on the treatment*. We guarantee a minimum **70% reduction of hair in the treatment site, after the completion of a Results Guarantee Treatment Package. If this result is not obtained, customers may request a follow-up assessment with their service provider.
To obtain more treatments free of charge, you must complete the full treatment series, have before and after photos taken at our clinic, *unless suggested otherwise based on the treatment*, and come to your scheduled and suggested appointment times. The following regulations must be met to ensure validation of our Results Guarantee Policy:
Appointments must be consistent with your suggested schedule by your service provider.
No hormonal issues or medications which may impact hair growth may be present/taken throughout the duration of your treatment series.
Pre and post-care must be followed according to the instructions given to the patient during their consultation.
All skin rejuvenation/wrinkle reduction/skin treatments must be accompanied with at-home use of Skin Care Products suggested by your skin therapist as instructed.
CoolSculpting Treatment Results Guarantee Policy ensures that if the patient has had the recommended amount of sessions per treatment area (minimum of 2), and no results were obtained, we will offer an extra session/cycle on the same treatment area, free of charge. An increase of 5+ LBS of weight between the time of initial treatment and follow-up appointment disqualifies all patients from the Results Guarantee policy.
All Melasma, Hair Restoration, Facial Hair Removal, and Cosmetic injection treatments are excluded from the Results Guaranteed Policy.
Treatment settings must align with technician recommendations. If settings require altering at fault of the client, Canada MedLaser Clinics reserves the right to void the Results Guarantee Policy.
We **guarantee results on all laser hair removal packages for a period of 24 months, provided no hormonal issues or medications which may impact hair growth are present/taken during this time frame.
The customer reserves the right to cancel the service or package within 10 days after the purchase date ("Accepted Cancellation date"), if a medical condition they possess proves to be a contraindication to the treatment, and the patient has not started the treatment. Canada MedLaser reserves the right to request a doctor's note. Canada MedLaser has the right to decline the package cancellation request if a doctor's note cannot be provided.
In the event that a customer chooses to cancel their treatment package after completing any number of sessions, for refund calculations, the value of sessions used will be according to the original price featured on Canada MedLaser Clinics' shop/price list, before any promotional value. The full price of the sessions used will be deducted from the paid amount by the customer.
For any cancellations, the customer will be charged $250+tax. No refund will be executed if the cancellation request was submitted after the "Accepted Cancellation Date". Purchased packages may be transferred to a more suited candidate for the treatment if a medical condition is preventing the client from continuing their services with Canada MedLaser.
If the customer chose to pay for their treatment package through a third-party financial institution, an additional fee of 12% of the total package value will be applied to the cancellation fee.
Any false statements/advertisements or posts on Social Media or other media outlets which involve Canada MedLaser or businesses associated with Canada MedLaser may result in repercussions.
Restrictions and fine print:
Canada MedLaser reserves the right to request valid identification.
Canada MedLaser reserves the right to limit or refuse to accept free treatment requests in cases when results from our services were obtained.
Refund requests may take up to 31 days for assessment and status updates.
If the client chooses to cancel their treatment package for whatever reason, please email to info@canadamedlaser.ca