Fractional Laser Resurfacing (Venus Viva®)
Regenerate, repair and reveal radiant skin.
Fractional Laser Resurfacing (Venus Viva®)
Regenerate, repair, and bring back radiant and smooth skin.
What Is Fractional Laser Resurfacing (Venus Viva®)?
Laser resurfacing is a treatment that can help improve the appearance of your skin by reducing scars and discoloration. However, fractional laser resurfacing treatments involving CO2 also come with a long downtime and recovery process. Fractional Laser Resurfacing with Venus Viva is a newer type of laser treatment that can give you the same benefits as traditional laser resurfacing, but with less pain and a shorter recovery time.
This treatment utilizes nano-fractional radio frequency (RF) to create micro-wounds on the skin surface using small needles, similar to microneedling. These wounds stimulate collagen production, promoting skin rejuvenation for a smoother and fresher appearance.
Fractional Laser Resurfacing (Venus Viva®) Treatments
These are the skin concerns we can solve with our Fractional Laser Resurfacing (Venus Viva®) treatments at Canada MedLaser:
Resurface the skin, reduce the appearance of fine lines and wrinkles, tighten the skin and simulates collagen
Fractional laser treatments are known to deliver very appealing and noticeable results especially with scarring and discoloration.
The Venus Viva offers the same benefits as traditional fractional laser resurfacing minus the long recovery period.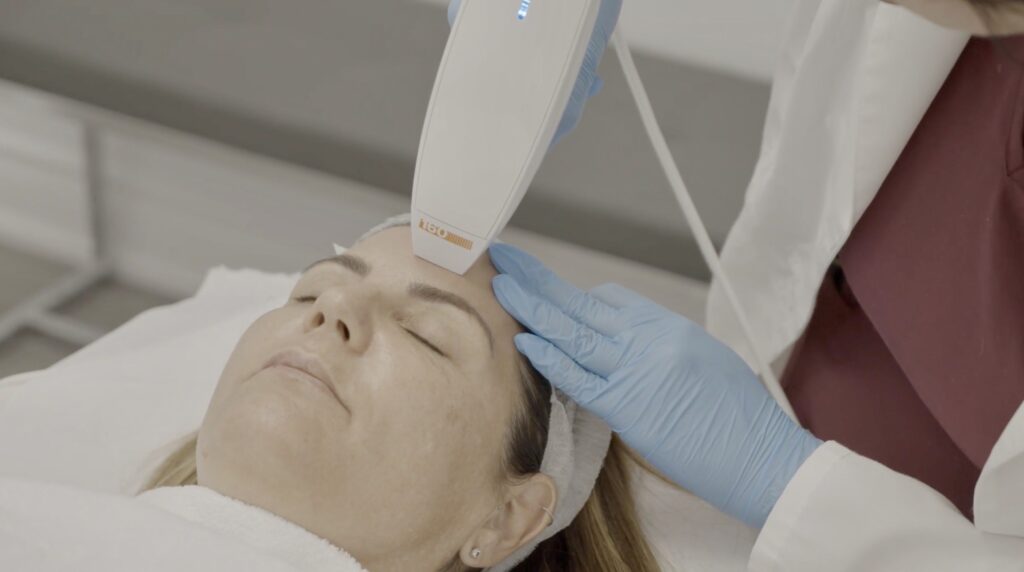 Preparation
Avoid direct sun exposure at least 1 week prior to your appointment. 

Avoid tanning at least 2 weeks priort to your appointment as we can not do fractional on sun burnt skin. 

Botox and filler must be done and settled at least 4 weeks prior. 

Come to your appointment with clean skin and no make up.
Aftercare
What Our Clients Say About Us
Excellent experience in Canada medlaser Toronto (downtown) , I got a laser hair removal package (YUI is THE STAR Of laser) , the results are amazing, Botox /filler injection the nurse (lily) is gentle and very professional, the clinic is clean, and the have a lot of deals, I just love them ♥️
I tried laser removal at other clinics before that were unsuccessful but I am thrilled at the results at Canada Medlaser. Mabel was very helpful and ensured I left satisfied after each session. I would strongly recommend asking for Mabel, she made the experience easy.
Great experience overall, Kayla makes you feel so comfortable and painless as possible. Very clean and professional, have already recommended to friends.
Came in to complete my laser (face and armpits) after I moved cities. My experience was great, they took the time to understand my needs and which package would suit me better. The place is clean and hygienic which is very important for these kind of treatments. I will be coming back for any retouches and other treatments!
Amazing staff and service! So friendly and so pleased with the results!
I have been coming for laser hair removal for a while now and it's been a great experience! The staff is always very friendly and respectful and the place is extremely well kept. They are attentive during each session and always go above and beyond to ensure you're comfortable. I highly recommend if you're looking for great service at an affordable price!
Mabel is amazing for laser hair removal! She tracked my progress and also provided a few extra sessions to ensure I was happy with the results.
Find my preferred location
Canada MedLaser is more than just Laser Hair Removal and CoolSculping. We offer treatments that suit both men and women in any skin type. See offers and the latest treatment packages.
Frequently Asked Questions
The laser removes the top layer of the skin, which also removes blemishes such as redness and sunspots and helps to diminish the look of fine lines. By removing this top layer of skin, the procedure also encourages the growth of healthy new skin cells. When these new skin cells appear, the skin will look smoother, tighter and more evenly colored. It will create a more youthful, radiant appearance to the skin.
The number of sessions will depend on the assessment done during your complimentary consultation. While it may take multiple sessions to completely achieve your aesthetic goals, majority of our clients see results even after just 1 session.