Oily skin—it's a problem that many of us battle with on a daily basis.
If you have oily skin, you have surely experienced a time when you have been out for a special evening. It could be a date, or a party, thinking that you look your best, only to go to the bathroom and see that dreaded shiny forehead, nose, or cheeks. Makeup that had, a few hours ago, promised to control your oily skin and leave the area "mattified" has all but disappeared by separating and sliding out of place. Even more embarrassing are the mornings after an event that you check your tagged photos and see that your forehead was the flashiest part of your outfit!
Why do I have Oily Skin?
The amount of oil your skin produces is directly linked to the size of the sebaceous glands. The larger the glands, the more oil they produce. Along with oily skin, this typically results in enlarged pores. The size of your sebaceous glands and the oil production that comes with it depends on a few factors.
Oily skin is largely hereditary, but the oil production can also be ramped up by heat and humidity, hormone and stress levels, and diet and exercise.  While it may seem like a good idea to frequently wash your face when you have oily skin, don't do it! This actually makes the oily skin worse. This is because stripping your skin of all its oil will dry it out and signal the sebaceous glands to produce even more oil.  While oily skin can be very inconvenient in its appearance, it serves many purposes, and oily skin does come with its advantages. Essentially, oil, or sebum, helps your skin look young for longer and prevents wrinkles. It also helps to keep skin hydrated, prevents too much water from getting in our skin, and even protects skin from bacteria.
What is Recommended for Oily Skin?
As mentioned above, over-washing oily skin is not recommended, but it is important to wash your face twice daily with a gentle cleanser. This will help the sebum from clogging your pores.  In addition, with oily skin it is also imperative to use sunscreen daily, as when UV rays dry skin out and pulls water from the skin, tit will result in over-active sebaceous glands and more oil. When choosing makeup, those with oily skin need to ensure that they are using oil-free formulas and moisturizing well.  For midday touch-ups, blotting papers are recommended for oily skin to soak up excess oil and reduce shine. But what if this is still not enough? While there are countless makeup and skin care products that are marketed specifically for sufferers of oily skin, many do not actually last a full day as promised or, particularly with makeup, cause acne and breakouts if not used carefully. If you are tired of your oily skin and the cycle of constant "oil checks", blotting, and powdering, there may be other solutions better suited to you.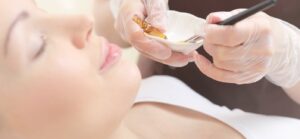 How can Canada MedLaser Help Me with My Oily Skin?
Canada MedLaser in Toronto is a leader in the GTA when it comes to the medical aesthetics industry. Canada MedLaser offers many cosmetic treatments that can treat oily skin. Some examples of such procedures are:
That's right! The injection that can help smooth the fine lines and wrinkles in your face can actually help reduce oily skin! Studies have shown that when Botox is injected into the sebaceous glands in the "T-zone" of the face, oil production in the area was reduced, as well as pore size.

the Aquapure is an amazing customizable facial system that can help balance the textures of the face and reduce oily skin. In the "peel+" stage, dead skin cells and waste are exfoliated from the skin. Next, in the "sebo+" stage, pores are deep cleansed to remove all excess sebum, all while retaining healthy moisture levels in the skin so that more oil is not produced. In the "micro-current" stage, small electrical currents are delivered to the skin, which can help tighten the pores.

Canada MedLaser offers glycolic acid peels that battle oily skin by safely removing the uppermost layers of the skin. Glycolic acid is a fruit acid peel and is considered safe for all skin types. Depending on your level of need, there are different "levels" of peels that range from superficial to deep, depending on how many layers of skin need to be removed. This intense but gentle exfoliation ensures that sebaceous glands are cleared of all excess oils, and can even remove areas of skin discolouration from old breakouts.
If you have questions about which of these oily skin treatments would best work for you, book a free consultation with Canada MedLaser in Toronto today! A trained professional in the medical aesthetics industry can create a treatment plan that is tailored for your oily skin.