Acne and rosacea are indeed two of the most common skin concerns today. Though these skin concerns are prevalent, getting the proper and effective treatment for them can be a challenge. And one of the reasons is that they are most of the time mistaken for each other.
Acne vulgaris is more popularly known as acne while acne rosacea is widely known as rosacea. Both are rashes that affect the face and are common to a lot of people. Contrary to popular belief, they have distinct characteristics even if they look almost the same. Acne and rosacea also have different effects on the skin that we should be mindful of.
Before finding an effective treatment for acne and rosacea, we first must know what they are. If you're not sure what those red bumps on your face are, read on to figure it out. In this article, we will also discuss the treatments for acne and rosacea.
What is Acne: Acne Vulgaris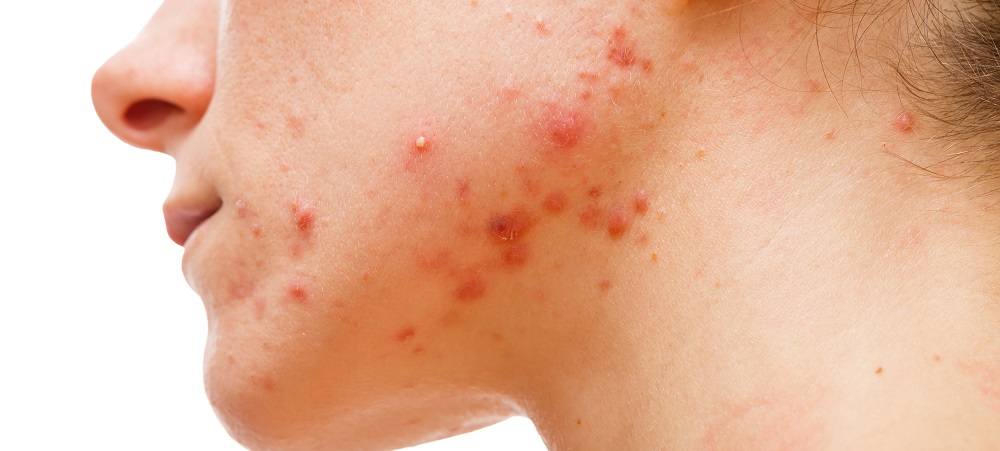 Acne vulgaris (commonly referred to as acne) is a common skin disease in which hair follicles become clogged with dead skin and oils resulting in inflammation. Acne has a varied etiology which includes genetics, hormonal function, bacterial growth, and other causes.
Clinically, acne can be identified by open or closed comedones, and/or by erythematous papules and pustules on the face, as well as erythema on the surrounding skin. Likewise, acneiform scarring may also occur which may or may not present with comedones.
What is Rosacea: Acne Rosacea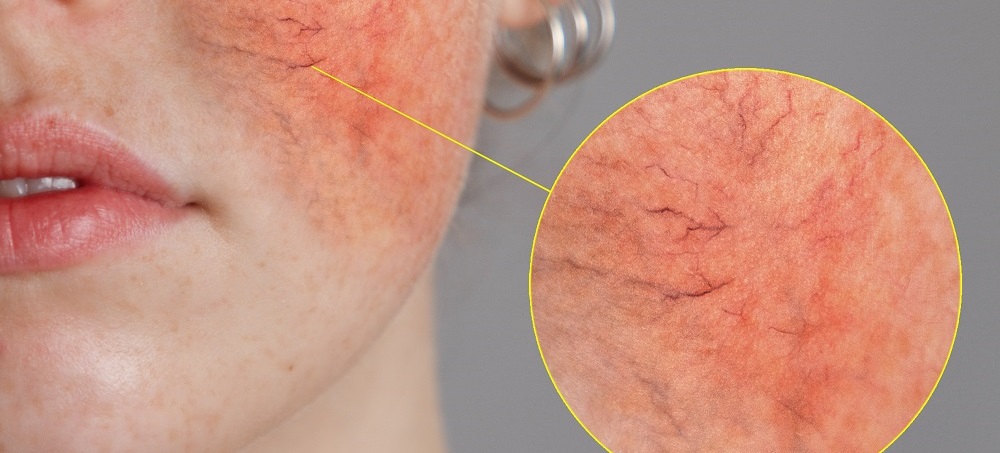 Acne rosacea (commonly referred to as rosacea) is a common skin disease which is characterized by redness, papules, pustules, and swelling. Commonly mistaken for acne vulgaris in its early stages, acne rosacea is a relapsing condition, which can be exacerbated by sun exposure, heat, alcohol, strong emotions, caffeine, and spicy foods.
Clinically, rosacea is largely identified by the intense reddening of the skin (the erythema is caused by dilation of the superficial vasculature of the face). Likewise, rosacea is not typically present with comedones.
Unlike acne vulgaris, rosacea is typically localized commonly over the central face (i.e. medial cheek, nose, forehead, and chin). 
How Do I Tell Acne and Rosacea Apart?
Let's start with rosacea, which is a chronic condition that may involve skin that is red, flushed, rough, or bumpy. You may have inflammation around the breakout, as well as pus-filled bumps and eye swelling. It may resemble acne or sunburn. 
The redness of rosacea can cover a large region of your face, such as your entire cheek or forehead. It normally affects adults after the age of 30, and if left untreated, can lead to serious issues such as permanently thickened skin around the nose and cheeks.
In contrast, acne can appear as whiteheads, blackheads, and hard lumps in severe cases. Acne also causes redness, but unlike rosacea, the redness is isolated to the pimple or lump. And even though they both appear on your face, acne can show up on your chest, back, shoulders, and buttocks.
In terms of age, acne mostly affects teenagers and some adults. There are certain points in your life where acne is more common (such as puberty and pregnancy), but it is usually a temporary condition that heals on its own. You can use medications to help clear up persistent or chronic acne.
What Causes Acne and Rosacea?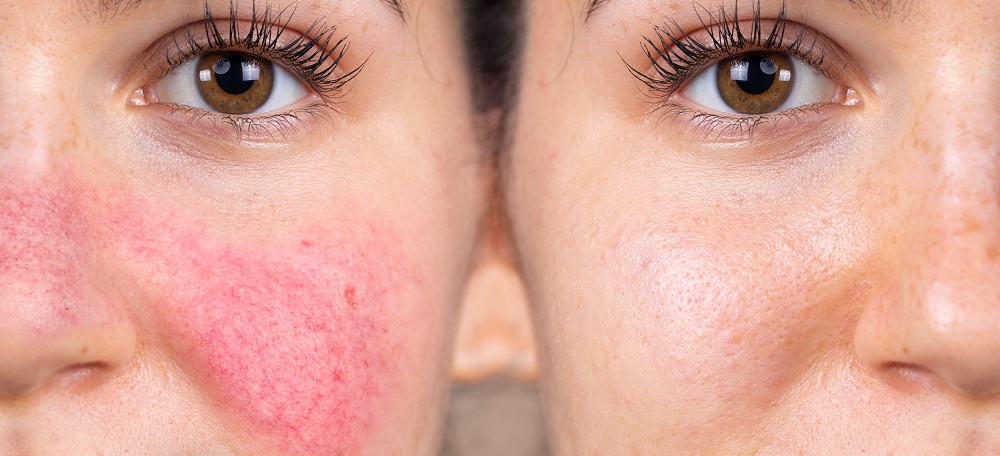 While the exact cause of rosacea is unknown, clinicians believe it is related to how your body regulates the temperature of your skin. When you exercise, drink alcohol, or eat spicy food, your body heats up, and your blood vessels begin to expand. This helps your body release that extra heat and sweat it out. However, the changes in blood flow to your skin are believed to put you at risk for rosacea.  
Acne is due to many factors (stress, diet, medications, and hormone imbalances during puberty, menstruation, or pregnancy) that can cause your skin to release too much oil. The oil can combine with dead skin cells and clog your pores. Once the pores are clogged, they can become infected with bacteria, which can cause inflammation.
Related article: Do Topical Treatments Work in Removing Acne Scars?
Treatments for Acne and Rosacea
There are typical treatments for acne and rosacea. Your provider can help you decide which of these are the right treatments based on the severity of your condition, the causes, and other factors such as other medications you may be taking.
Treatments for Acne Include:
Topical benzoyl peroxide

Antibiotics: (doxycycline, erythromycin, clindamycin)

Retinoids: tretinoin, tazarotene, adapalene, isotretinoin

Laser therapy, chemical peels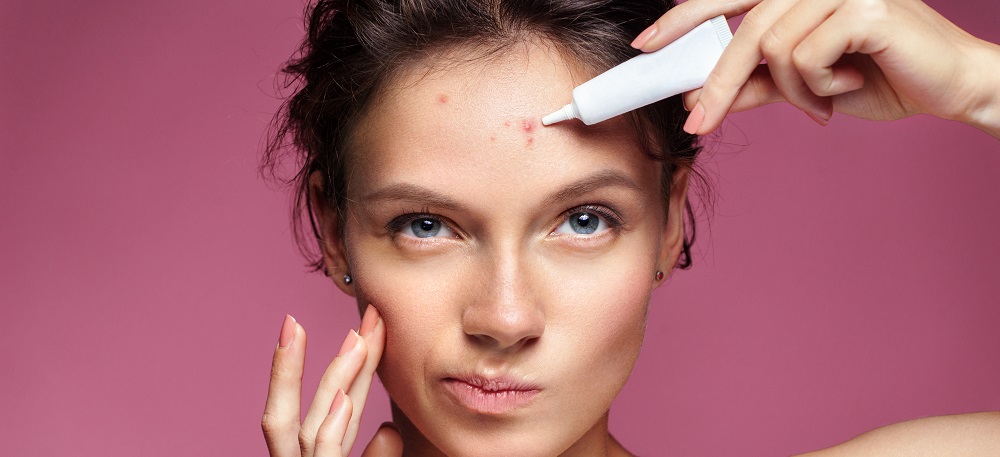 At Canada MedLaser Clinics, we provide the most advanced and state-of-the-art acne treatments to treat and abate acne and its related effects of pimples and blackheads.
Chemical Peels
Moderate chemical peels use trichloroacetic acid (TCA) which penetrates the skin to cause the peeling of underlying skin layers and increase elastin, collagen, and other proteins that provide your skin elasticity.
AquaPure Facial
The Aquapure Facial is an advanced form of microdermabrasion that restores skin health and facial beauty. With AquaPure, we offer a four-phase treatment system that delivers a healthy, clear, and clean complexion for acne-free skin.
Skin Care Products
At Canada MedLaser Clinics we employ Vivier Skin Care Product to help with your skincare needs. Within this product line, we offer exceptional medical-grade acne products.
Treatments for Rosacea Include:
Topicals (applied to the skin): brimonidine, metronidazole, azelaic acid

Antibiotics: (doxycycline and minocycline)

Retinoids: isotretinoin

Laser therapy
There are no definite cures for conditions such as rosacea. However, rosacea can be reduced drastically, if the appropriate forms of treatment are used.
Therefore, medical aesthetic treatments such as chemical peels, microneedling and laser skin treatments are always recommended when patients are seeking more effective and long-lasting remedies to reduce their rosacea conditions.
Chemical Peels
Chemical Peels are a great way to reduce rosacea and redness in general. Chemical Peels consists of an acid solution (that can be mild or medium) that is adjusted to fit the patient's specific needs and it is applied to the face. Chemical peels cannot completely treat rosacea, but it can significantly reduce the redness, acne and bumps that can be caused by it.
Laser Skin Treatments
Laser Skin Treatments are also an effective way to treat rosacea and redness. At Canada MedLaser clinics, we use the Candela GentleMax Pro- a top of the line laser machine that provides long-lasting results for skin treatments. This dramatically reduces the redness and veins developed from rosacea.
Microneedling
Microneedling, which is also known as Skin Needling or Collagen Induction Therapy is a skin treatment that also treats rosacea. Microneedling skin treatments are safe, relatively painless, require zero downtime and it is a natural form of treatment as no chemicals are involved.
How Seeing a Skin Professional Can Help
If you think you have acne, you'll find plenty of acne treatments online and in stores. These treatments help clear acne for many people. If your acne goes deep into your skin, however, you'll need a skin professional's help. Treatment for deep acne breakouts, such as acne cysts, requires treatments.
Should you have rosacea, you'll find few treatment options online and in stores. A skin expert can help you get the right care. This care can help prevent the rosacea from worsening.
All in all, you ask the help of Canada MedLaser in Newmarket to aid your concern about acne and rosacea. We will guide you through the best option for treating your concern.
Contact Canada MedLaser today and book your free consultation now!