By Margarita Fruman, Medical Aesthetician
So, you've been contemplating for a while, but you've finally made your decision and to give laser hair removal a try. Your friends rave about it, and it seems like you're the only one in your office who hasn't had it done. Peer pressure is a powerful tool, but in this case, it's for the best.
You go online and start researching clinics near you. And it hits you… like an overwhelmingly large menu at a restaurant, there are just way too many medical aesthetic clinics and spas to choose from. Where do you start? How do you know which one to pick?
Related article: Reasons Why You Should Get Laser Hair Removal
Well, I'm here to narrow it down and help you choose the best option for your needs.

Firstly, when searching for a medical aesthetic clinic, you want to make sure you're searching for just that – a clinic. It's my strong recommendation to exclude any spas, nail salons and hair salons from your search. The reason why I suggest this to be your first step in the process of elimination is because of the simple reason that spas and salons simply don't have the one required to carry a medical laser device – A medical director/physician on site.
Only medical skincare / medical aesthetic clinics typically feature a medical director – yes, that's three "medical's" in one sentence. This is so important because in order for a clinic to carry a medical laser device in Canada, according to Health Canada regulations a clinic must have a medical director on site. Medical laser devices not only offer more effective treatments, but a medical director also ensures safety protocols are enforced at the clinic.
Once you've eliminated spas and salons, half your work is done!
Now that you've narrowed down your search, it's time to prep for your consultation. You may be thinking, "Why prep for a consultation? I'm just going in to get information. It's the consultant's job to prep me". Well, though that's partially true, you also need to keep in mind that although we all hope our consultants are honest and want the best for us, there are some clinics that hire salespeople, and not actual consultants to conduct consultations. This means that preparation is what will separate you from a smart consumer or a sucker.
First thing's first. Start off by researching different types of laser machines on the market. Just because you're going to a clinic, doesn't mean that you're guaranteed good technology. There are still many places that feature subpar lasers. Look for keywords such as "True Laser", and laser technology names such as "Alexandrite" or "Nd Yag". Avoid signing up for a laser package if you know an "IPL" or "BBL" will be used.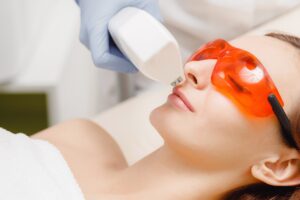 If you're unable to find the name of the laser used at the clinic you'll be visiting on their website, I would say that's a red flag, but be sure to ask in person when you get to your consultation. Additionally, don't forget to ask the consultant for a tour of the clinic. Inspect the cleanliness, professionalism and friendliness of the staff, and most importantly, the laser machine being used. If you're unfamiliar with it, write down the make and research it when you get home.
Next, when you arrive at your consultation, pay attention to how you're greeted. Are the staff friendly? Are you offered a beverage upon arrival? Do they take your coat and hang it for you? Customer service speaks volumes on how you will be treated throughout your entire laser hair removal treatment. Sure, the consultant maybe your best friend, but if the front desk isn't going out of their way to ensure your comfort, something's gotta be off. Happy staff=happy clients.
Once you get into the consultation room, pay close attention to what your consultant is telling you. Are they telling you how incredible laser hair removal is, how there are zero side effects, no downtime, no post-care and a 100% chance of you achieving incredible results? If so, run. This is a salesperson just trying to reach into your pocket with false promises.
A real consultant will typically start off by explaining to you the science behind laser hair removal and how it works. They will then get to the topic of hormone imbalances. They will ask you questions about your personal health and explain how many approximate sessions they think you will require. They will tell you that maintenance is required after you complete the original amount of sessions in the package being offered to you, and they will go through a short, but important list of side effects and pre / post-treatment precautions you must take if you choose to sign up for the treatment.
Now that you've chosen your ideal clinic and signed up for your package, it's time to prep for your treatment.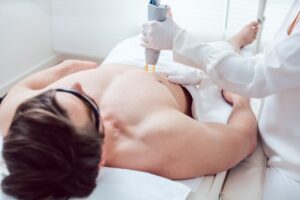 Preparing for laser hair removal is simple but necessary, and without the proper measures taken beforehand, a safe and effective treatment may not be possible.
Here's what you need to do prior to each laser hair removal session that you'll be attending:
Shave the night before your session. Although this may sound counterintuitive, your hair should be as short as possible for the laser energy to properly penetrate through to the root of each hair follicle. Shaving the night before is recommended vs. the morning of to avoid excess irritation of the skin.

Avoid tanning creams/beds/sun exposure for at least two weeks prior to each session. Not only does tanning sensitize the skin, but it also causes a higher risk for negative side effects, and if you have had recent sun exposure, notify your medical aesthetician! It's better to skip a session than to reap the consequences.

If treating areas on your face or exposed body areas, always, and I mean daily, wear sunscreen with an SPF of 30 or higher. Even if you're not visibly tanned or sunburnt, UVA rays are still a factor. Those are the rays that cause ageing and hyperpigmentation. Laser hair removal makes skin more vulnerable to these rays, and without proper protection, the risk of hyperpigmentation (darkening of the skin) increases significantly.

Avoid any manual or chemical exfoliation of the treatment site(s) for two weeks before and after each laser hair removal session. The good news is laser hair removal actually lightly exfoliates the skin by burning off dead skin cells, so the treatment also helps to soften the skin.

During your consultation, you should receive a paper with all pre and post-treatment instructions written down, including the ones mentioned in this article. Once signing up for a laser hair removal package, don't be shy to contact the clinic you signed up with if you have any further questions. They should be happy to help, as more information leads to better treatment outcomes for both client and clinic.
Once again, if you guys have any further questions or would like to schedule a complimentary consultation, call or email Canada MedLaser and if you would like me to cover any other topics in future blog posts, email info@canadamedlaser.ca with the Subject: ATTN Margarita.
Bye for now!
Related article: Why Laser Hair Removal is Your Best Investment?